SUNDAY, SEPTEMBER 14- EXALTATION OF THE HOLY CROSS
Writing to the Philippians, Paul makes use of an early hymn to exhort the members of that church to put on the mind of Christ. The hymn itself is an example of how some of the first Christians articulated their understanding of the death and rising of Jesus. The structure of the hymn depicts two movements in the lived experience of Jesus. In the first, he emptied himself by coming in human likeness; in the second, God exalted him by giving him the divine name at which every knee should bend. The hinge that holds the two movements together is the phrase "because of this." So the hymn teaches us, as Paul teaches the Philippians, that Jesus was exalted not because he died, but because his death on the cross was the summation of his whole life given to God in humble obedience. In today's Gospel, Jesus, alluding to the action of Moses in the first reading, announces that "the Son of Man must be lifted up." This is at once a prediction of his crucifixion and a promise of his exaltation by the Father. And precisely because it is both, we who believe in him have eternal life.


110TH ANNIVERSARY BOOK ADS
If you wish to place an Ad or Greeting in the Anniversary Book, you can pick up an order form from the Rectory or Sacristy. The deadline for all Ads is September 15, 2014.
110th ANNIVERSARY DINNER BANQUET TICKETS
We are preparing for the 110th Anniversary of St. Hedwig Parish which will be held on Sunday, October 12, 2014 from 12 pm to 7 pm at the Ambassador Banquet Hall at 610 New York Ave., Trenton, NJ following the 11:00 am Mass. Tickets are being sold after all Masses and at the Rectory. The price of the ticket is $65.00 per person.

CATECHISTS NEEDED FOR RELIGIOUS EDUCATION PROGRAM
Due to our expanding religious education program, we are in need of additional Catechists for the 2014–2015 school year. Please consider this wonderful ministry. We welcome those with experience and those who have never taught before. Help and information are available to anyone interested. If you are interested or have any questions in regards to this ministry, please contact Dorothy Zadworny at (609) 587-0487.
RELIGIOUS EDUCATION PROGRAM
Religious Education Program (CCD) for the year 2014-2015 will begin on Tuesday, September 30th, 5:00-5:30 pm for all students and their parents of both the Tuesday and Wednesday night classes with an orientation meeting in the Church. Regular scheduled classes for Tuesday and Wednesday will begin October 7th & 8th at 5:00 pm in the Convent.

ST. HEDWIG'S CHOIR
St. Hedwig's Choir will resume its regular rehearsals after the summer break on Thursday, September 18th, 2014 at 7:30 pm. Rehearsals will be held thereafter every Thursday, from 7:30 pm to 9:00 pm in the Convent. We cordially invite any Parishioner of St. Hedwig to join us. For more information, contact our organist, Mr. Jacek Stanisz, after any weekend Mass in the church's choir loft.

DIOCESE OF TRENTON BISHOP'S ANNIVERSARY BLESSING
The Bishop of the Diocese of Trenton has been celebrating the gift of sacramental marriage with anniversary couples for more than 40 years. This year Bishop O'Connell will extend his Episcopal blessing to couples married 50 years or more, couples married for 25 years and couples married one year, at a special Eucharistic liturgy and blessing celebration on Sunday, October 19, 2014 at 3:00 pm in St. Robert Bellarmine Church, Freehold, NJ The deadline for registration is September 19, 2014. Couples who wish to participate in the Bishop's Anniversary Blessing may visit the Parish Office to register. Family members are most welcome to attend the Anniversary Blessing.
Bishop David M. O'Connell, C.M., invites faithful in the Diocese on pilgrimage to Poland
Bishop David M. O'Connell, C.M., is extending an invitation to the faithful of the Diocese to join him as he walks in the footsteps of St. John Paul II during a 14-day pilgrimage to Poland in 2015. Pilgrims will travel by motor coach to Warsaw, Czestochowa, Krakow and other cities in the late pope's home country; enjoy a seven-day guided cruise along the canal which links the Rhine, the Main and the Danube rivers; and hear lectures, view folklore demonstrations, enjoy authentic ethnic dishes and attend daily Mass as they travel through towns integral to the late pope's ministry from April 23 to May 6.
"A pilgrimage like this will focus on the spiritual," said Father Jeffrey E. Lee, pastor, St. Mary Parish, Colts Neck, and diocesan director of pilgrimages. "By going to Poland with the Bishop, there is a connection to John Paul II, who was the Archbishop of Krakow."
Father Lee noted that pilgrims will meet with religious leaders, celebrate Mass at holy shrines and continue their education of their Christian heritage as they visit sites along the Danube.

ST. HEDWIG'S PARISH VETERANS MEMORIAL
All Veterans active or inactive qualify to enter names on the Memorial Walk. The cost is $30.00 per brick. For information please call Julius Wszolek at 599-2298
Lest We Forget
Because of them, our lives are full—
Because of them, our nation lives
Because of them, our world is Blessed.

Download Church Bulletin
(pdf format)
September 14, 2014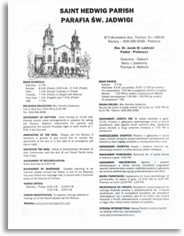 ..................................................................
HOLY SACRAMENTS
..................................................................
Sacrament of Baptism:
Every Sunday at 10:30 AM. Parents should make arrangements in advance by calling the Rectory. Baptism instructions for parents and godparents are the second Thursday night of each month at 7 PM in the Convent

Annointing of the Sick:
Please call the Rectory if someone is gravely ill and would like to receive the sacrament of the sick or in the case of an emergency call day or night

Visitation of The Sick:
Father & Extraordinary Ministers of Holy Communion visit the sick of our Parish family every First Friday

Sacrament of Reconciliation:
Every Saturday at 4:00 PM

Sacrament of Marriage:
Couples planning to be married, please contact the Pastor or one of our Deacons one year before the marriage date in accord with a Common policy of the Diocese of Trenton
......................................................