"Do not quench the Spirit. Do not despise prophetic utterances. Test everything." With these words Paul exhorts the Thessalonians in today's second reading. They, like us, must practice discernment, actively seeking to know God's will in every circumstance. A criterion for discerning the will of God and the work of the Spirit is suggested in the reading from the prophet Isaiah. There the Spirit authorizes God's servant "to bring glad tidings to the lowly, to heal the brokenhearted, to proclaim liberty to captives and release to prisoners." Both Paul and Isaiah know that the activity of the Spirit is manifest in justice and praise. There is discernment going on in today's Gospel, too. Representatives of the Jewish leaders in Jerusalem, attempting to discern if John's prophetic activity is of God, question him. In answer, he tells them, "There is one among you whom you do not recognize." John's words must give us pause. We think we know the Coming One. But do we? Or is he perhaps among us unrecognized? "Test everything."


SACRAMENT OF RECONCILIATION
On Tuesday, December 16th, 2014 at 7:00 pm in the Church we will have Advent confessions both in English and Polish.
CHRISTMAS SCHEDULE OF MASSES
Wednesday, Dec. 24th
5:00 pm English
Midnight Polish & English
Thursday, Dec. 25th
9:30 am English
11:00 am Polish
Friday, Dec. 26th
11:00 am Polish
PLEASE TAKE NOTICE There will not be an 8:00 am Polish Mass on Thursday, December 25th, 2014, Christmas Morning.

IN MEMORIAM
Please pray for the souls of Stella Turczyn, Walter Maciołek and Frank Juraniec who have died. Eternal rest grant unto them O Lord and let Perpetual Light shine upon them. May they rest in peace. Amen.

CHRISTMAS WAFERS/OPŁATKI
The Christmas Wafer/Opłatek commemorates a custom which is centuries old. Through the Wafer/Opłatek, we are reminded of the Holy Nativity. The Wafer/Opłatek is broken and shared with those gathered at the Christmas table. When each has a broken piece, PEACE is wished to all. The Wafers/Opłatki are available in the rectory during regular office hours and in the Sacristy after all Masses.

KNIGHTS OF COLUMBUS EYEGLASSES COLLECTION
St. Hedwig Knights of Columbus have a collection box in the vestibule of the Church for new, used or broken eyeglasses in any condition. Also we are collecting new and used hearing aids which will be repaired and distributed to people who need help hearing. The Knights are partnered with New Eyes for the Needy who will repair and distribute the reconditioned eyeglasses and hearing aids to countries in need throughout the world. Please help us provide glasses and hearing aids to those in need. Thank you.

RELIGIOUS RETIREMENT FUND
The National Retirement Fund for Religious Appeal will be taken up at all the Masses next weekend, December 13 & 14, 2014. This collection helps to offset retirement costs for Sisters, Brothers and Order Priests.
Download Church Bulletin
(pdf format)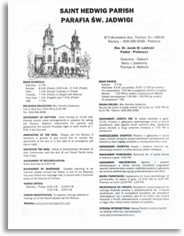 ..................................................................
HOLY SACRAMENTS
..................................................................
Sacrament of Baptism:
Every Sunday at 10:30 AM. Parents should make arrangements in advance by calling the Rectory. Baptism instructions for parents and godparents are the second Thursday night of each month at 7 PM in the Convent

Annointing of the Sick:
Please call the Rectory if someone is gravely ill and would like to receive the sacrament of the sick or in the case of an emergency call day or night

Visitation of The Sick:
Father & Extraordinary Ministers of Holy Communion visit the sick of our Parish family every First Friday

Sacrament of Reconciliation:
Every Saturday at 4:30 PM in church

Sacrament of Marriage:
Couples planning to be married, please contact the Pastor or one of our Deacons one year before the marriage date in accord with a Common policy of the Diocese of Trenton
......................................................