JUNE 28, 2015 – XIII SUNDAY IN ORDINARY TIME

In today's Gospel, Mark interweaves two stories of Jesus in order to make the point that the author of the Book of Wisdom makes in the Old Testament reading: God wills life, not death; and the death that entered the world by the envy of the devil is undone by faith in Jesus. The interweaving of the two stories by Mark depends on their similarities, most obviously, on the desperation of each one and the daring faith required of them both in the face of contrary "professional" opinions—the many doctors, in the woman's case, and the mourners at Jairus' house. Both Jairus and the ailing woman seem to be people of means. His position as synagogue official suggests as much; and, although she has exhausted her resources, it has apparently taken her twelve long years to do it. Yet, as they both must acknowledge, all the money in the world cannot save or secure life. Thus the categories of poverty and riches are redefined by "the gracious act of our Lord Jesus Christ," whose poverty makes us rich.
PARISH PICNIC
The St. Hedwig Parish Picnic will be held this Sunday, June 28, 2015 at The Elks Lodge Picnic Pavilion, 110 Hickory Corner Road, East Windsor, NJ. Cost of ticket is $10.00 per person, children under 10 are free. Picnic will run from 1:00 pm to 7:00 pm. Price includes food and entertainment. All are welcome.

DIRECTIONS TO: THE ELKS PICNIC PAVILION
110 HICKORY CORNER RD.
EAST WINDSOR, NJ 08520
From Trenton Area: Take Rt. 1 to Quakerbridge Road, make a left onto Village Road, follow to 130 and make a left, go straight to light at Hickory Corner Rd. and make a left. Picnic area is a short drive on right.
XIII ANNUAL WALKING PILGRIMAGE
Once again the parish will have their Annual Walking Pilgrimage from St. Hedwig to the American Czestochowa in Doylestown, PA on the weekend of August 8th & 9th, 2015. All parishioners are invited to participate in this three-day spiritual journey. For further information please call Wioletta Wyszynski 577-5312.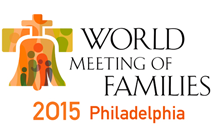 September 22-27, 2015

"The family which experiences the joy of faith communicates it naturally. That family is the salt of the earth and light of the world; it is the leaven of society."

Pope Francis, October 27, 2013
SUMMER SCHEDULE: THE RECTORY OFFICE WILL BE
CLOSED ON FRIDAYS DURING JULY AND AUGUST
IN MEMORIAM
Please pray for the souls of Joseph Kisielewski, Ruth Kisielewski and Sally Ann Mydlowski who have died. Eternal rest grant unto them O Lord and let Perpetual Light shine upon them. May they rest in peace. Amen.
ZA ZMARŁYCH: W minionym tygodniu z naszej wspólnoty odeszli do wieczności: Joseph Kisielewski, Ruth Kisielewski i Sally Ann Mydlowski Polećmy ich miłosierdziu Bożemu: Wieczny odpoczynek racz im dać Panie, a światłość wiekuista niechaj im świeci. Niech odpoczywają w pokoju wiecznym. Amen.
Download Church Bulletin
(pdf format)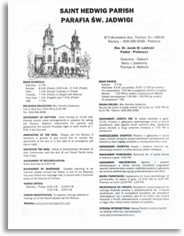 Learn about our patron's life.
..................................................................
HOLY SACRAMENTS
..................................................................
Sacrament of Baptism:
Every Sunday at 10:30 AM. Parents should make arrangements in advance by calling the Rectory. Baptism instructions for parents and godparents are the second Thursday night of each month at 7 PM in the Convent

Annointing of the Sick:
Please call the Rectory if someone is gravely ill and would like to receive the sacrament of the sick or in the case of an emergency call day or night

Visitation of The Sick:
Father & Extraordinary Ministers of Holy Communion visit the sick of our Parish family every First Friday

Sacrament of Reconciliation:
Every Saturday at 4:30 PM in church

Sacrament of Marriage:
Couples planning to be married, please contact the Pastor or one of our Deacons one year before the marriage date in accord with a Common policy of the Diocese of Trenton
......................................................