JULY 19, 2015 – XVI SUNDAY IN ORDINARY TIME
The first and second readings for today seem to play on a number of contrasting images. The oracle of Jeremiah contrasts false leaders with that righteous shoot who shall govern wisely; bad shepherds with the good shepherd who is God; the present time of dispersion and distress with the coming days of salvation. His message is a word of hope for exiled Israel. The excerpt from Ephesians invites Gentile Christians to contrast their prior status with their present life in Christ. They who were once far off have been brought very near. The dividing wall that separated Jew and Gentile has given way; there is now, in place of the two, one new humanity with one route of access to the Father. The message is a word of hope for Jews and Gentiles estranged from God and from one another. Both readings proclaim God's intention to gather the sheep so that there will be one flock, one shepherd (cf. Jn 10:16). That is the mission of Jesus in today's Gospel. The sight of the vast crowd, like sheep without a shepherd, fills him with compassion. "And he began to teach them."

XIII ANNUAL WALKING PILGRIMAGE
Once again the parish will have their Annual Walking Pilgrimage from St. Hedwig to the American Czestochowa in Doylestown, PA on the weekend of August 8th & 9th, 2015. All parishioners are invited to participate in this three-day spiritual journey. For further information please call Wioletta Wyszynski 577-5312.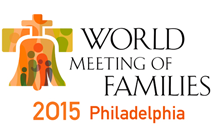 September 22-27, 2015

"The family which experiences the joy of faith communicates it naturally. That family is the salt of the earth and light of the world; it is the leaven of society."

Pope Francis, October 27, 2013
Holy Father's Prayer Intention for July

Universal: That political responsibility may be lived at all levels as a high form of charity.

Evangelization: That, amid social inequalities, Latin American Christians may bear witness to love for the poor and contribute to a more fraternal society.
SAINT ANN NOVENA IN LAWRENCEVILLE
The Church of Saint Ann, 1253 Lawrenceville Road, Lawrenceville, NJ will celebrate its annual Novena in Honor of Saint Ann, grandmother of Jesus, from Saturday, July 18 to Sunday, July 26, 2015. All are invited to take part. Services will be weekdays at 9:00 AM and 7:30 PM. The candlelight procession in honor of Saint Ann will be held on Friday evening, July 24th at 7:30 PM. For more details or directions, please call The Church of Saint Ann at (609) 882-6491.
CATECHISTS NEEDED
Due to our expanding religious education program, we are in need of additional Catechists for the 2015–2016 school year. Please consider this wonderful ministry. We welcome those with experience and those who have never taught before. Help and information are available to anyone interested. If you are interested or have any questions in regards to this ministry, please contact Dorothy Zadworny at (609) 587-0487.
IN MEMORIAM
Please pray for the souls of Stanley Kuliczkowski, Loretta Milutis and Jan Gomolinski who have died. Eternal rest grant unto them O Lord and let Perpetual Light shine upon them. May they rest in peace. Amen.
BAPTISMS
The following children were baptized in our Church:
Alex Kwiatkowski, son of Hubert Kwiatkowski & Barbara Grochocka; Adam Dyl, son of Pawel Dyl & Sylwia Kopek;
Alexa Barbara Bedryk, daughter of Andrew Bedryk & Aleksandra Popczyk;
Emily Lynn Geiger, daughter of Michael Geiger & Karen Zickler;
Maja Emily Dziegielewski, daughter of Mark Dziegielewski & Andzelika Sadlowska;
Adam Jan Gancarz, son of Bartłomiej Gancarz & Teresa Małodzinska

Congratulations to the parents and godparents.

RECTORY SUMMER SCHEDULE:
THE RECTORY OFFICE WILL BE
CLOSED ON FRIDAYS DURING JULY AND AUGUST