THIRD SUNDAY IN ORDINARY TIME
Each of today's readings sounds a wake-up call and suggests a pattern of response. The cry of the prophet Jonah shatters the complacency of the citizens of Nineveh: "Forty days more and Nineveh shall be destroyed." Even before Jonah reaches the halfway mark on his journey through the city, all the people of Nineveh turn from their evil way. And their repentance causes God to repent as well. The city is saved because the people of Nineveh believed God; i.e., they understood that time was running out and reformed their lives accordingly. The preaching of Jesus in the Gospel for today disrupts the daily life of four Galilean fishermen. "Come, "he says; and, inexplicably, they follow. The advent of God's kingdom creates a state of emergency. Here the saying is literally true: "He who hesitates is lost." Similarly, Paul aims to disturb our peace when he declares, "The time is running out." This realization does not remove us from the world, but it must reorient our lives within it "from now on."
Religious Education classes are canceled on Tuesday, January 27th and Wednesday, January 28th.
ST. HEDWIG KNIGHTS OF COLUMBUS
St. Hedwig Knights of Columbus #7244 is seeking new members, 18 years or older, male and Catholic to join our Council. By joining you would become more involved in our Church and local community through acts of charity and volunteerism. For more information about membership please contact Frank at 609-396-1926, or Rich at 609-890-8275.

FEAST OF ST. BLAISE
February 3rd, is the Feast of St. Blaise. Blessing of throats will take place at next weekend's Masses, January 31 and February 1, 2015.

POLISH ARTS CLUB SCHOLARSHIPS
The Polish Arts Club of Trenton announces the availability of $1,000 scholarships to qualified high school seniors of Polish descent to assist in their pursuit of a college education. For details and an application, please visit our website www.trentonpolisharts.org
. Applications must be submitted by February 20, 2015
IN MEMORIAM
Please pray for the souls of Paul J. Szalony and Paul Mirys who have died. Eternal rest grant unto them O Lord and let Perpetual Light shine upon them. May they rest in peace. Amen.

Download Church Bulletin
(pdf format)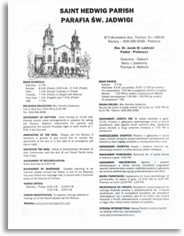 Learn about our patron's life.
..................................................................
HOLY SACRAMENTS
..................................................................
Sacrament of Baptism:
Every Sunday at 10:30 AM. Parents should make arrangements in advance by calling the Rectory. Baptism instructions for parents and godparents are the second Thursday night of each month at 7 PM in the Convent

Annointing of the Sick:
Please call the Rectory if someone is gravely ill and would like to receive the sacrament of the sick or in the case of an emergency call day or night

Visitation of The Sick:
Father & Extraordinary Ministers of Holy Communion visit the sick of our Parish family every First Friday

Sacrament of Reconciliation:
Every Saturday at 4:30 PM in church

Sacrament of Marriage:
Couples planning to be married, please contact the Pastor or one of our Deacons one year before the marriage date in accord with a Common policy of the Diocese of Trenton
......................................................